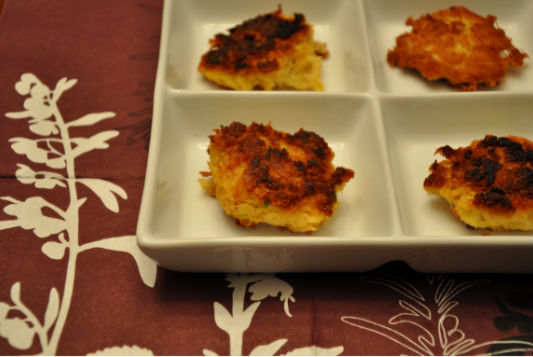 There's no time like the present to start getting in gear for your Super Bowl bash. Run those laps, clean the house and show off your own Super Bowl (menu) strategy with these make-ahead mini crab cakes from WineTable Executive Chef Harry Haff. The adults will love your style—especially when you serve it with a well-paired wine. Try a California Fume Blanc, medium-bodied oaked California chardonnay or a Pouilly-Fuse from Burgundy. And don't forget--they eat crab cakes in BOTH San Francisco and Baltimore...so show your true colors with the dipping sauce you make.
Mini Crab Cakes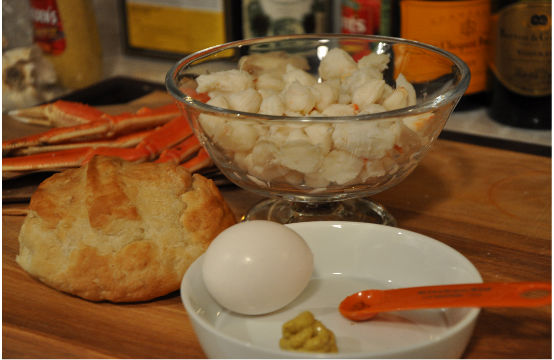 Start by picking all the crab meat from the shells. Figure about 2 ounces of crab per person and then adjust the other ingredients accordingly. Mix together the crab, mustard, egg, breadcrumbs, mayo and spices.
Use about 2 tablespoons of mixture per cake and round each cake, gently pressing down to make them flat. Place in a bowl of fresh breadcrumbs made from unsweetened French bread and coat.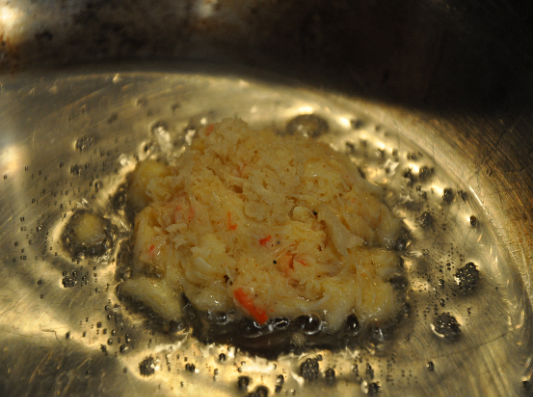 Fry in about ½" of oil in a heavy frying pan about 3 minutes per side or until golden brown. Make sure the oil is hot, 350-375 degrees, before adding the cakes. Drain on paper towels.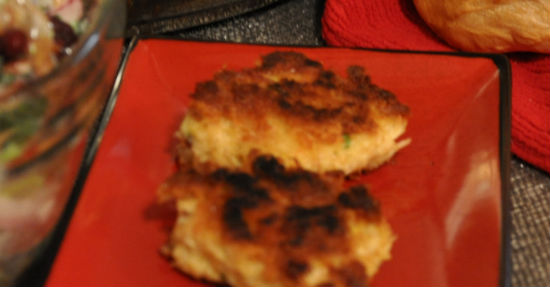 These can be made ahead and frozen. To reheat, place on a sheet pan and place in a 350 degrees until the centers are hot. Use a thermometer-they should be about 160 degrees. Serve on a platter with dipping sauce of choice.
Ingredients
Serves about 4
8 oz. crabmeat, picked over to make sure no cartilage remains. I like to use half lump and half claw meat
1 t. Dijon mustard
1 egg, beaten
1 t. fresh breadcrumbs
½ t. mayonnaise
Good-sized pinch of Old Bay or cayenne pepper (or both!)
Show Your Team Colors with a Dipping Sauce
For 49ers fans:
2 cloves garlic
8 oz. plain yogurt, preferably Greek style
1 T. finely chopped fresh oregano
1 T. tomato paste
1 T. fresh lemon juice
Couple dashes of your favorite hot sauce
Mix all together in a bowl, adjust for salt and pepper as desired and let stand in the fridge for 3-4 hours. Taste just before serving and adjust as needed.
If it is too thick for you, addd a couple of tablespoons of heavy cream or white wine depending upon your taste preference. This is tart, so if you want a less tart version use 1/2 yogurt and 1/2 mayonnaise.
For a Baltomore Ravens party:
1/2 C. mayonnaise
1/2 C. sour cream
2 T. finely chopped fresh mint
1/4 t. cayenne pepper
1 t. fresh lemon juice
1/2 t. extra fine granulated sugar
2 oz. rye whiskey or bourbon (rye will make it spicier, bourbon will make it sweeter)
Refrigerate for 2-3 hours taste to adjust salt before serving. If you want a creamier sauce, add a couple of tablespooons heavy cream.
Get More Super Bowl Recipes:
---