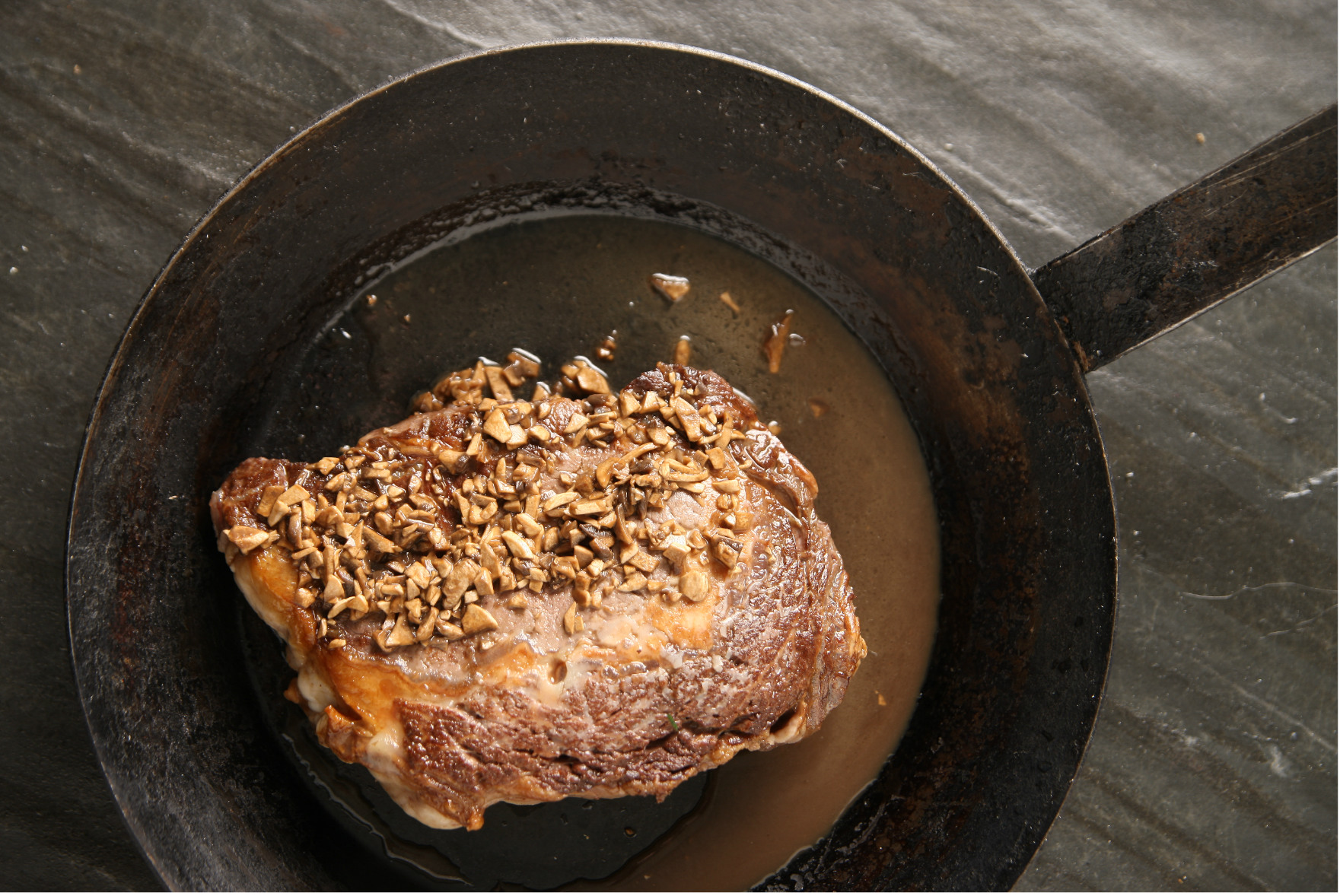 Harry's Pairing Note: For this rustic fall rib eye, I recommend several wines. First, Red Cotes du Rhone, North. Tannins balance the fat with a big flavor profile. Smoky notes on the wine add a compatible touch to the mushroom sauce. This would be a pricey wine, $25+, but for a special occasion, why not? You could also try a Washington State syrah or a better-quality Australian shiraz. Want to impress your friends? Serve up a petite sirah from the Lodi region of California.
Serves 4
Ingredients:
1 oz. dried morels
8 oz. Oporto wine
4 steaks
2 shallots
1 clove garlic
2 oz. unsalted butter
The night before:
1. Soak 1 oz. dried morels over night in 8 ounces Oporto wine.
2. The next day, strain through a fine strainer and reserve wine for the sauce. Chop the mushrooms.
Tip: Use real Oporto, not imitation. The real stuff comes only from Portugal.
Cook the steaks:
1. Season the 4 steaks with salt and fresh ground black pepper and drizzle with oil.
2. Sear in a heavy pan or Dutch oven, to keep from splattering until a crust forms. Turn over and do the same to side 2.
3. Put the steaks in the oven and remove when a thermometer registers 120° when inserted sideways into the cent of a steak. Remove, pour off the juices and add to simmering sauce. Cover and stand at least 5-10 minutes.
Tip: Place in a baking dish to finish in the oven at 400°.
Make the pan sauce:
1. Remove excess grease from the pan and add 2 finely chopped shallots. Lower the heat to medium.
2. Add 1 clove crushed garlic and sauté to aroma, deglaze with 1/3 of the Oporto and reduce to syrup. Swirl in 2 oz. unsalted butter to finish, slowly swirling the pan to incorporate the butter. Check seasoning.
Finishing:
Serve the sauce on the side or place the steaks on warmed serving plates, spoon about 1 oz. over a corner of each steak and serve the remainder on the side.
---