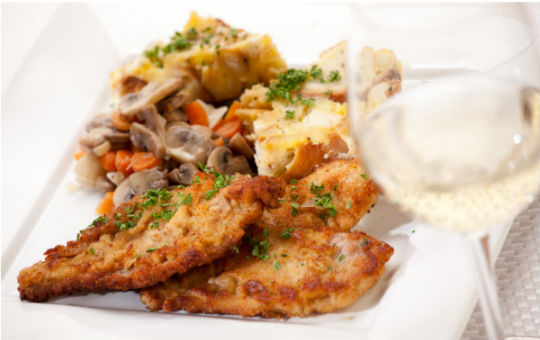 Harry's Pairing Tip: First wine choice here is an off-dry Riesling from the Rhein River area. Or, if you can find it, a dry auslese from the Mosel.
4 3-oz veal, pork or turkey cutlets pounded very thin.
Flour
3 Eggs
1 loaf day-old French bread, grated into crumbs
Oil
Salt and pepper
Butter
To Make the Schnitzel
1. Sprinkle with salt and fresh ground white pepper.
2. Prepare the breading station: one bowl with seasoned flour, one with beaten eggs; one with breadcrumbs made from French bread.
3. Dip each cutlet into the flour, then shake off the excess. Next, dip in the egg and then place in the breadcrumbs. Using your other hand, pile breadcrumbs on top of the meat, pat gently and turn. Make sure meat is evenly coated.
4. Heat about 1 inch of oil in a heavy skillet. When it reaches 375°F, gently place cutlets in the oil. Turn when golden brown and brown the second side. Drain on brown paper or paper towels.
5. In a small skillet and add 2 oz. whole butter and heat until it turns nut brown.
To Serve:
Pour the browned butter over schnitzels on serving plates, garnish with parsley, lemon and maybe a few capers.
Serve with braised red cabbage, fried bread dumplings or pommes frites.
---