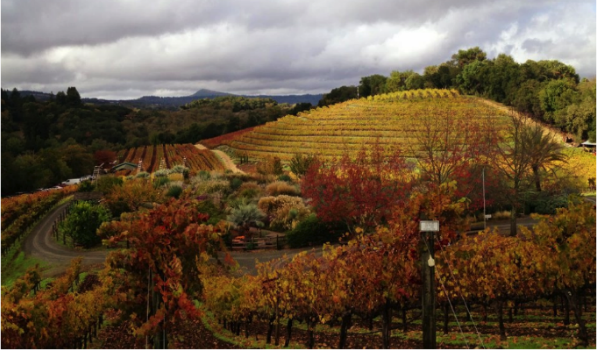 [Benziger's Biodynamic® vineyard, Glen Ellen, CA / Credit: Lauren Barnard]

In the crowded and complex landscape of the wine marketplace, some wineries are choosing to make traditional production methods their point of differentiation. The Benziger family did just this by becoming one of today's leading Biodynamic® wine producers. But rather than holding this differentiator close, they are helping the Biodynamic wine movement grow—to the point where they give their secrets away to their competitors in hopes they, too, will adopt Biodynamic practices.
A story of trial, error and…regression?
When the Benzigers uprooted their lives in White Plains, NY to give the pioneering American winemaking movement a "go" in the 1970's, they weren't farmers but learned fast. They quickly picked up the latest viticulture techniques to begin their budding and promising enterprise known as Benziger Family Winery. As production grew, their yields were good, but the earth was cracked and dead. The wines were selling, but they were flat and uninteresting. In the name of pride and commitment, Mike Benziger, one of seven Benziger siblings working the vines, sought a solution. And that is when he met Alan York.
As we recently introduced on WineTable in Bringing the salmon back upstream with Biodynamic wine, Alan York is one of the pioneering leaders in sustainable, organic and Biodynamic wine production. A concept largely unheard of at the time, York convinced Benziger to go Biodynamic. In an age where science was progressing rapidly and California winemaking was cultivating its roots in the global marketplace, going au naturel seemed largely regressive of industry best practices and his neighboring counterparts. New fertilizers and herbicides were being introduced and agricultural production was taking on a new domain. Through greater intuition, Benziger listened to York and began converting Benziger's vineyards to Biodynamic. Adopting this new, holistic approach helped launch Benziger Family Winery into a multi-tiered brand with some of the most advanced examples of Biodynamic farms today.

Jessica LaBounty, Marketing Director for Benziger Family Winery, reiterated Benziger's motivation to make the switch. "It's a very personal desire to stand next to a winery you're proud of," she said. "You're not going to see many big corporate wineries go after this. The reason a family would do this is not from the perspective of profit but from the perspective of a long-term generational commitment."
Setting an industry example
Since the transformation towards organic in 1995 and eventually Biodynamic with their first Biodynamic wine release in 2001, the Benzigers have worked tirelessly to make their entire portfolio certified sustainable, organic or Biodynamic. This means, everything from the growers to the bottlers to the shippers has been carefully considered and approved by certifying agents Stellar, Demeter, the USDA and other environmental policies. Getting certifications set an example of integrity in their winemaking and showed their commitment to the new tack. (Because, quite frankly, keeping these certifications valid is a lot of work!) It also let wine drinkers know they always get Benziger's very best product and representation of their land and grapes.

Spreading their secrets
Now with five Biodynamic-certified wine estates and 10 percent of their production certified Biodynamic, the Benzigers aren't holding onto any secrets. Rather, they are spreading the news to others and encouraging them to take the leap. They even hold books groups with competitors such as Bonny Doon Vineyards' Randall Grahm and others that come and talk about what works and how to do it better.

"Look at DeLoach [who recently adopted Biodynamic principles] and other new people with influence getting excited about Biodynamic," said LaBounty. This shows there is a real belief and genius among wine makers that this is making really great wine."

Cultivating growth and awareness
Getting consumers to understand Biodynamic is still largely at the grassroots. It's not a mystery why the industry has grown by 15 percent per year, though. Benziger Family Winery also offers a Biodynamic tour of their vineyard, for example, that rarely leaves consumers unaffected.

"By the time they leave [the vineyard], they believe," said LaBounty. "It's such an easy thing to grasp when you are at the vineyard. You see how active the birds and insects are. And you hear the story. A large percentage of people still aren't coming to the winery because of Biodynamic, but when they do make the connection, we tend to have longer relationships because people identify the values of the wine quality."

The commitment of leaders like Benziger, York, Wendt and others don't come at a sacrifice. Rather, it is the right choice for their farms and families where word can't spread fast enough.
"Mike and the family believe so much that this is what is right for the earth, so they are eager to teach and share and continue to talk and have really passionate discourse about what it's about and why it's important, " said LaBounty.
Check out Benziger wines and add them to your WineTable cellar or write a review >>
---