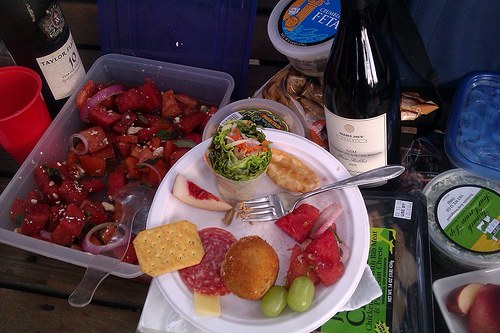 [Party food / bunnicula]
You're throwing a last-minute soiree for your favorite people. You have twenty minutes in the grocery store to come up with a solid menu - and wine pairings. Here are some suggestions to make your life 100% simpler.
Hit The Frozen Food Aisle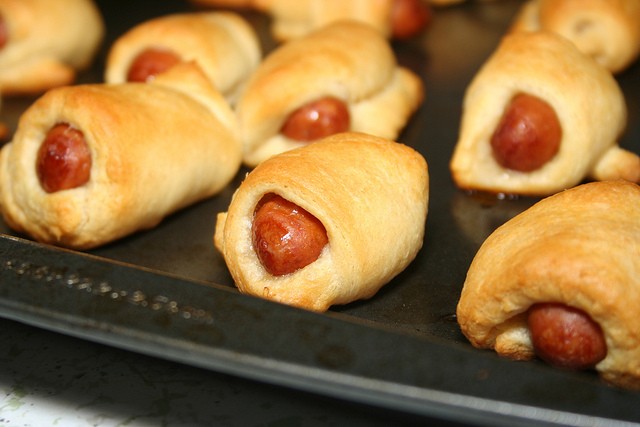 [The flaky pastry and meaty goodness of Pigs in a Blanket / David K]
Pigs in a Blanket pair well with Rosati Prosecco. Light, sparkling, and fruity, this wine tames the spiciness of the mustard and the bubbles help wash the buttery flakiness of the dough off the palate.
Fried Spring Rolls go well with sparkling wines, especially ones from California or New Zealand. The ripe fruitiness, crisp texture, and bubbles are perfect with fried food.
Mushroom Flatbread pairs nicely with Pinot Noir. This deep red complements the savory earthiness of mushrooms and truffles.
Crab Rangoon goes smashingly with Riesling. This fruity white wine highlights the crab and creaminess of these dumplings, while also chasing away the fried taste.
Scallops Wrapped in Bacon are delicious with a white blend with Chardonnay and Riesling. Chardonnay pairs well with scallops and the slight sweetness of the Riesling cuts the salted smokiness of the bacon.
Try a Chardonnay-Riesling Blend >>
Hit The Cheese Aisle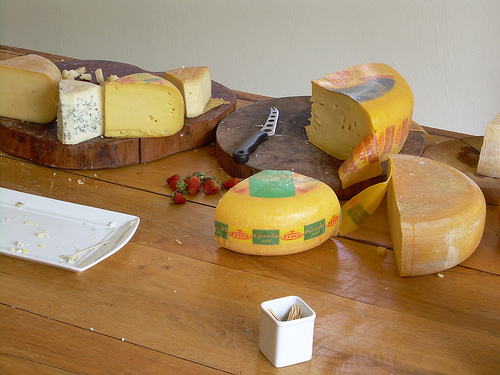 [Cheese / shanidov]
Grab a tub of mozzarella balls. Skewer them with cherry tomatoes and a leaf of basil. Drizzle the plate with a light dose of olive oil and pair with a Pinot Grigio. The crisp notes of pear and apple will meld with the sweetness of the tomatoes while the citrus will cut the olive oil's richness. You can also serve with a Prosecco or Chianti.
Baked Brie with pecan, cranberry or honey goes well with Chardonnay, which cuts the cheese's creaminess. Brie is complemented by the buttery pear flavor of the wine.
Goat cheese pairs beautifully with Sancerre or Rosé. Aged cheddar goes nicely with Pinot Grigio, Sauvignon Blanc or port.
Almost all cheeses pair well with Rosé, so if you're strapped for time, just grab a few bottles of the pink stuff and throw in any cheese that catches your eye. Add some crackers and almonds and olives and you have the makings of a killer party on the fly.
---