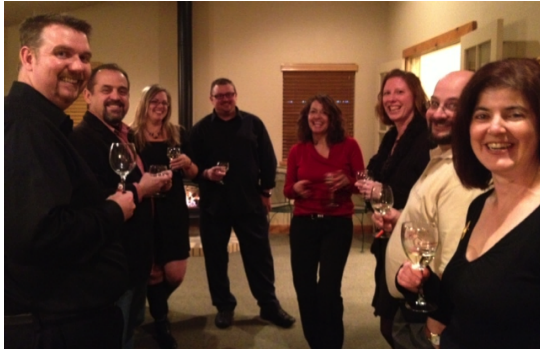 [Photo: A contingent of the WineTable team joined in the festivities, including Paul Giese, Robin Salls and Jeff Cameron / Credit: William & Natalie Myers]
Janine: "Mom, I can't talk long because we are going to a wine and tapas party shortly."
Mom: "A topless party?"
Janine: "Yeah, it's very popular in Europe."
Mom: "Well, I suppose you'd jump off a bridge if your friends did too. Hail Mary, full of grace!"
Janine: "What?"
Mom: "I taught you to have more self-respect than that!"
Janine: "Mom, Tapas! Not topless!"
The room roared with laughter as our friend, Janine described her recent conversation. If you love to entertain, look to Spanish tabernas for inspiration. In bars across Spain, friends meet over glasses of wine and small plates of simple, yet delicious food. These little plates, called tapas, can be as simple as a few nibbles like nuts and olives or bite-sized morsels of more substantial dishes made with seafood, meats and vegetables. Small rounds of toasted bread with a variety of toppings also are typical of tapas menus.
Here is our recipe for a tapas & wine pairing party, a great way to celebrate the holidays.
Ingredients:
12+ happy wine lovers each bringing a tapas paired with their favorite wine
A comfortable, warm setting
Light, seasonal music
Prefer light snow, but if unavailable stars will suffice
Corkscrews
Service for 20
White elephant gifts
Wine charms
A Friday evening when everyone is ready to relax and have fun
An icebreaker
Water bottles to send with the departing guests
Preheat the room with a cozy fire and candlelight. (Avoid scented candles to prevent interfering with quaffing the wine.). Remember hospitality begins with a cheerful smile from the heart whether we have only water or an abundance of wine to share.
Stir up the party atmosphere with an ice breaker. Upon arrival, place a name tag with the guest's name along with a word associated with wine. Guests must ask each other one question with a yes or no answer. When they have guessed the word, have them write their name on a sheet of numbered paper.
When a dozen or so guests have arrived start out with a toast. We poured Jaume Serra's Cristalino Brut. The white varietals of Parellada, Chardonnay, Macabeo and Xarello grapes are grown in Jaume Serra's vineyards situated in the Alta Penedés, a sub region of the Penedés in Spain and are used to produce the area's famous sparkling wines, called CAVA.
Its fresh, toasty nose, beautiful citrus, green apple and mineral flavors, supple, lively mouth-feel, and clean, crisp finish make it a great celebratory wine.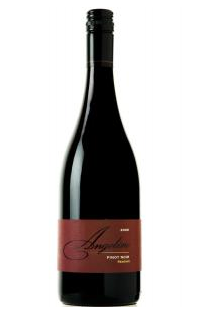 After all the guests are there, pass out plates and enjoy the wonderful food and relaxed ambiance. We served tapas of roasted duck on crostini drizzled with a raspberry chipotle sauce and paired with 2011 Angeline Pinot Noir. It was medium-bodied and was chosen for its meal pairing versatility.
The sheet of numbered paper should have a list of names by now. The first on the list opens a gift. The second on the list can choose to steal the first person's gift or unwrap a new one. Continue in like manner until all of gifts are unwrapped.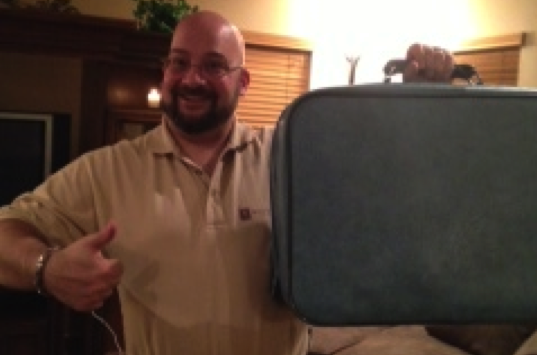 [Photo: Jeff enjoyed his white elephant-retro luggage! / Credit: William & Natalie Myers]
As budding sommeliers, we seek greater wine knowledge, and have been blessed to make friends this year with sommeliers, bar and bistro managers, wine consultants and distributors. Make opportunity to associate with at least one new master wine critic this upcoming year and perchance she may bring a Jeraboam of perfectly, aged Old Vine Zinfandel from Lodi like Brazin to your next pair & share! Hope to hear about your party soon!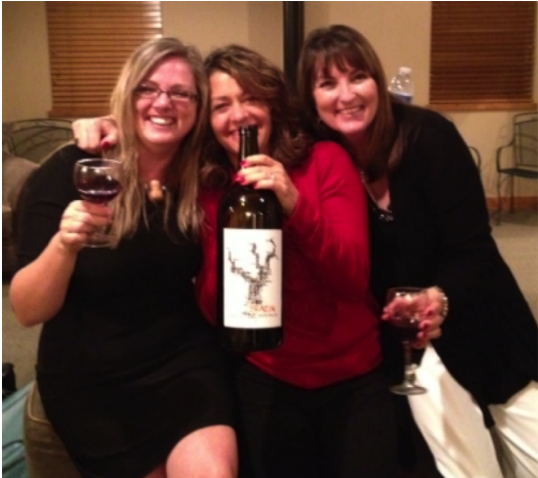 [Photo: Robin Salls, Natalie Myers, Annette Morris and one huge bottle of Old Vine Zin / Credit: William & Natalie Myers]
WT Editor's Note: Having a party this holiday season? Share which wines you're serving in the comments section...and don't forget to review them after the party!
---