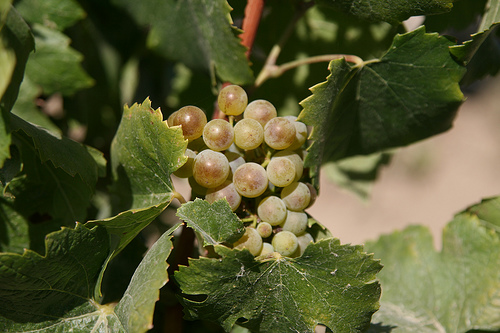 [Photo: Riesling Grapes in Washington / Credit: Bernt Rostad]
In America, Riesling tends to be considered solely as a sweet wine. In the minds of many here, Riesling was associated with the syrupy Blue Nun and other Liebfraumilch brands. Then came the regional ice and dessert wines that often emphasized sweet fruit over balance and acidity. Popular brands of today still tend toward the sweet, as that has been the traditional market niche Riesling has occupied.
But Riesling can be so much more. In fact, it is no stretch to say that well-crafted Riesling wines can be some of the best white wines you will encounter, and they can easily range from the balanced sweetness of a Trockenbeerenauslese, aged for 15 to 20 years or more, through an effervescent Finger Lakes offering from the previous year to a wonderfully dry and crisply spicy Austrian dry Riesling. Known as a grape that is very reflective of terroir, especially mineral soil composition, Riesling can appear in a wide variety of styles and flavor. A grape with a delicate skin, it requires care in harvest and is often picked by hand to avoid releasing bitter tannins into the wine. It is most commonly grown in colder regions, as colder climes allow it to enjoy a long slow ripening.
There is still a lot of mystery about the history of Riesling. Likely an offshoot of Gouais Blanc, an ancient grape commonly grown by peasants in the middle ages, and some sort of Traminer cross, Riesling is thought to have appeared first in the Rhine Valley sometime before the 13th century. The first documented record of Riesling is from 1435 in a count's inventory. It is possible that the name comes from the German word russ for dark wood, something that certainly describes the Riesling vine. Riesling could also be negatively derived from the word verrieseln, which describes poorly flowering plants.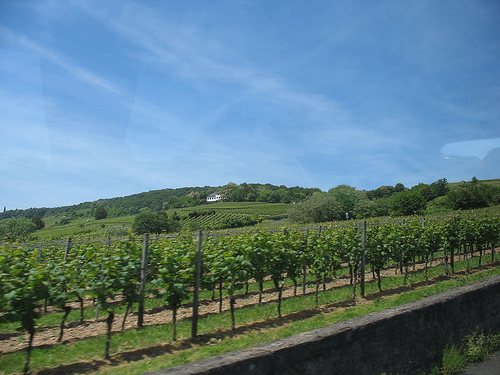 [Photo: Riesling Vineyard in Hesse, Germany by Nikoretro]
Naturally a large portion of Riesling is grown in Germany where it is the most produced grape in the country. In nearby Alsace, France, Riesling is one of the three grape varietals allowed for Grand Cru vintages. Elsewhere in Europe Riesling has a presence in Austria, Czech Republic, Croatia, Luxembourg, northern Italy & the Ukraine. In the southern Hemisphere there are long-standing traditions of growing the grape in South Africa, Australia and New Zealand. In the U.S., it has spread across the country with focus still on New York, Washington and California, In Canada the Niagra Falls region has produced world class Riesling ice wine. Even China is experimenting with Riesling in its colder climates.
Riesling is very flexible in pairing with food, depending on method and production, but in general terms, a lighter body without oaking and a good balance between sugar and acid make it a very good food wine. With its sweetness and fresh fruit flavors it is one of a few wines that pairs well with Chinese or Thai food as well as salty dishes. When drier, it goes well with pork and white fish. As a dessert or ice wine, it is wonderful as a standalone and goes well with blue cheeses, apple and caramel desserts and anything sweet and carmelized.
The next time you are in a wine shop or liquor store take a step away from the usual Rieslings and try something new. Look for trocken or dry on the label for a drier experience or go crazy and splurge on a trockenbeerenauslese for a sweet sensation like nothing else. If you are lucky enough to have a store that carries Austrian Riesling, it is a wonderfully refreshing wine, while those from Alsace tend towards a smoother and heavier mouth feel. There is even a German traditional sparkling wine called Sekt that is starting to make its way onto American shelves. If you want to stick closer to home, look for a Finger Lakes late harvest Riesling or a demi bottle from Washington state. Whatever you choose, Riesling can be an extraordinarily varied grape and deserves to be explored and experienced. At the very least, pick up a bottle for the next time you order Chinese take-out or Thai curry.
Name: Riesling
Species: vitis vinifera
Origin: Germany
Color: Green
Other names: White Riesling, Johannesburg Riesling
Notable Regions: Germany, France, Austria, Australia & New Zealand, United States & Canada
Common Pairings: Pork, white fish, Thai cooking, Chinese cooking, salty foods
---