There are plenty of gift options for wine-lovers. You see them everywhere. There are wine accessories, books, bottles, and glassware galore this time of year. While those can all be well-suited and wonderful ideas, what about giving that wine-lover in your life a gift that's truly memorable and unique this year?
I spent a recent Saturday afternoon on a Columbia River Gorge + Hood River Vineyard Tour, and THIS is the kind of gift a wine-lover like myself would prize far above any gadget or stemware you could bestow upon me (not that I wouldn't appreciate a small wine fridge or a beautiful wine rack…). The tour was over six hours of sight-seeing, scenic overlooks, and wine-tasting in the Columbia River Gorge area of Oregon. It's about an hour from my [current] hometown of Portland, and was the perfect way to spend a November Saturday.
Our tour guide was extremely knowledgeable about the area including its history, both geographic and political. The tasting rooms selected were a perfect mix of off-the-beaten-path, unique tasting rooms, and super relaxed, maybe-even-a-little-sexy wine-tasting.
The first half of the tour is the scenic part. From Portland, we made a few stops between there and Hood River including Chanticleer Point, Bridal Veil Falls, and Multnomah Falls.
The second half of the tour is the wine-tasting, and while I appreciate a scenic overlook as much as the next person, this was the part we were all really, really looking forward to.
First stop - Cathedral Ridge Winery
This place definitely wins "Most Scenic," of the three wineries we visited. While Springhouse Cellars had a beautiful interior space, Cathedral Ridge sits on top of a, well, ridge, just outside of town. From the area beside the tasting room and the vineyard outside, there's a picnic area overlooking the Columbia River. Mount Adams pokes its volcano head over the mountains on the Washington side of the river. Across the street from the tasting room, alpacas graze in a field. It's a really charming spot.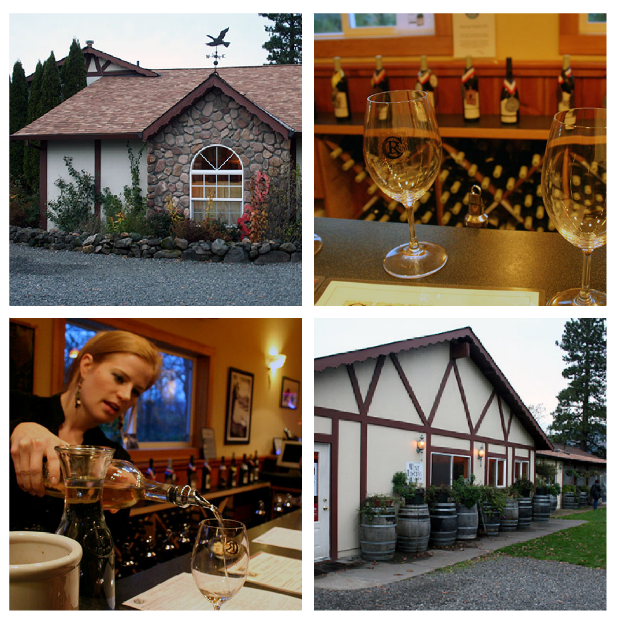 The tasting room itself is lovely and a couple of the wines stood out to me, including the 2010 Pinot Gris, the [90-point!] 2009 Reserve Pinot Noir, and the 2010 Rusty Red (a great, 100% single vineyard Syrah).
Second stop - Springhouse Cellar
This was my favorite of the three. I really enjoyed all of the wines I tried (and bought the Syrah and the Sauvignon Blanc), which was pleasing because they were mostly priced lower than the wines I liked, though not quite as much, at Cathedral Ridge Winery.

A couple of interesting things to note about Springhouse Cellar:


They keep everything on tap here, except for what's sold in bottles, to reduce glass waste (read more about their sustainability commitment

here

).


For this reason, you can buy refillable growliers ("growl-ee-ay") to help further reduce glass waste (and get to keep a pretty cool bottle).


Final stop - Naked Winery
I've covered this one already here, and the facts remain -- this place has great wine in a distinctly fun and sexy tasting room. They seemed a little put out that a tour of 10 showed up without warning (can't blame them), but in our defense, it was a last-minute group decision to make one more stop on the way back to Portland. Our group tasted in the middle bar (in between the main tasting room and the Club Room), and while it was fun, it wasn't quite as rambunctious as tasting in the main room tends to be. I was a little disappointed, only because my other experiences there had been so memorable and this just wasn't quite as rowdy as I'd remembered.
But that's just me. The first-timers seemed to love it, and of course, I'll go back.
If the Gorge isn't your thing, or you've already been there, done that, there are three other tour experiences offered by Cloud9Living in the Portland, Oregon area (and many, many more across the country).
Cloud9Living 9 Days of Christmas Contest
Cloud9Living is an "experience gift" company, and while their available experiences for gifting include adventures such as learning to fly and indulgences like spa days, some of their best (and most holiday-suited) offerings are for the food and wine lovers in your life. Ok, so now you know what you're getting your friends and family for Christmas. Want one of these experiences for yourself? You can enter Cloud9Living's 9 Days of Christmas Contest for the chance to win one of nine amazing experiences.
For 9 days, from December 16th through the 24th, Cloud 9 Living will draw one daily winner for the following prizes, culminating with the Grand Prize drawing on December 24th.


Day 1 Prize: Flight – Learn to Fly


Day 2 Prize: Relaxation – Spa Package


Day 3 Prize: Driving – Drive a Stock Car & Stock Car Ride Along


Day 4 Prize: Foodie – Food Tour for Two


Day 5 Prize: Golf – Golf Lesson with a PGA Pro


Day 6 Prize: Romance – Dinner Cruise for Two


Day 7 Prize: Adventure – White Water Rafting for Two


Day 8 Prize: Adrenaline – Tandem Skydiving


Day 9 Prize (GRAND PRIZE): Experience of a Lifetime – Fighter Pilot for a Day


Good luck!
Disclaimer: Cloud9Living provided both of these experiences, and I agreed to help promote the contest. All opinions are my own. For more on Cloud9 Living's contest terms and conditions, please visit their website.
Photo credit: All photos taken by Doniree Walker.
---