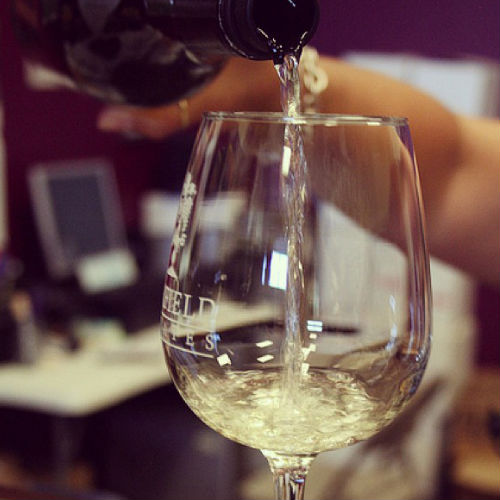 What is Gewürztraminer?
First, let's quickly cover how to pronounce this one.
Guh-voortz-truh-meener
Say it again.
Guh-voortz-truh-meener
Good job! Ok, moving on. Gewürztraminer, aside from being fun to say, is perhaps the most complicated of the wine grapes. Why?
This grape has quite the history, beginning as a green grape which then morphed into a pinkish-red due to a genetic mutation that took place over centuries. It's made even more complicated by its misnaming of vines throughout war-ravaged Europe for much of the last century. Adding yet another layer of complexity, Gewürztraminer is very picky about its soil and needs to be picked at just the right moment to achieve the perfect balance of sweetness and acidity. Talk about high-maintenance.
So, what's it like?
It's a sweet, pinkish-red grape used in white wines, and runs the gamut from dry to super sweet. It's best when enjoyed sooner after bottling than later, has a very high natural sugar, with flavors such as honey, apricot, pear and rose, as well as a hint of lychee, passionfruit, and some floral notes.
Where is Gewürztraminer from?
It's grown all over Europe, as well as in Australia, Canada and the US, though it's widely-considered that the best Gewürztraminer comes from the Alsace region of France. But hey, that's subjective. There's great Gewürtz all over the place.
It's the second most planted grape in France, growing best in the south of the Alsace region, but can also be found in Germany and Italy. In Germany, the grapes tend to be more dry, and in Italy they're aged in Austrian oak. Variations in climate and wine-making lend to variations in wine by even closely neighboring countries.
In North America, Gewürztraminer is most commonly found in the Monterey, Mendocino, and Sonoma regions of California, as well as the Columbia Valley of Oregon and Washington.
How to Pair
The sweetness of Gewürztraminer helps to offset the spice in Asian or Indian food, as sweet wines often do, and it also pairs well with fleshy or fatty meats, such as wild game and sausage. Gewürztraminer also balances the smoky flavors of muenster cheese and smoked salmon. Last, the super-sweet (look for "late harvest" on the label) varieties make excellent dessert wines.
---