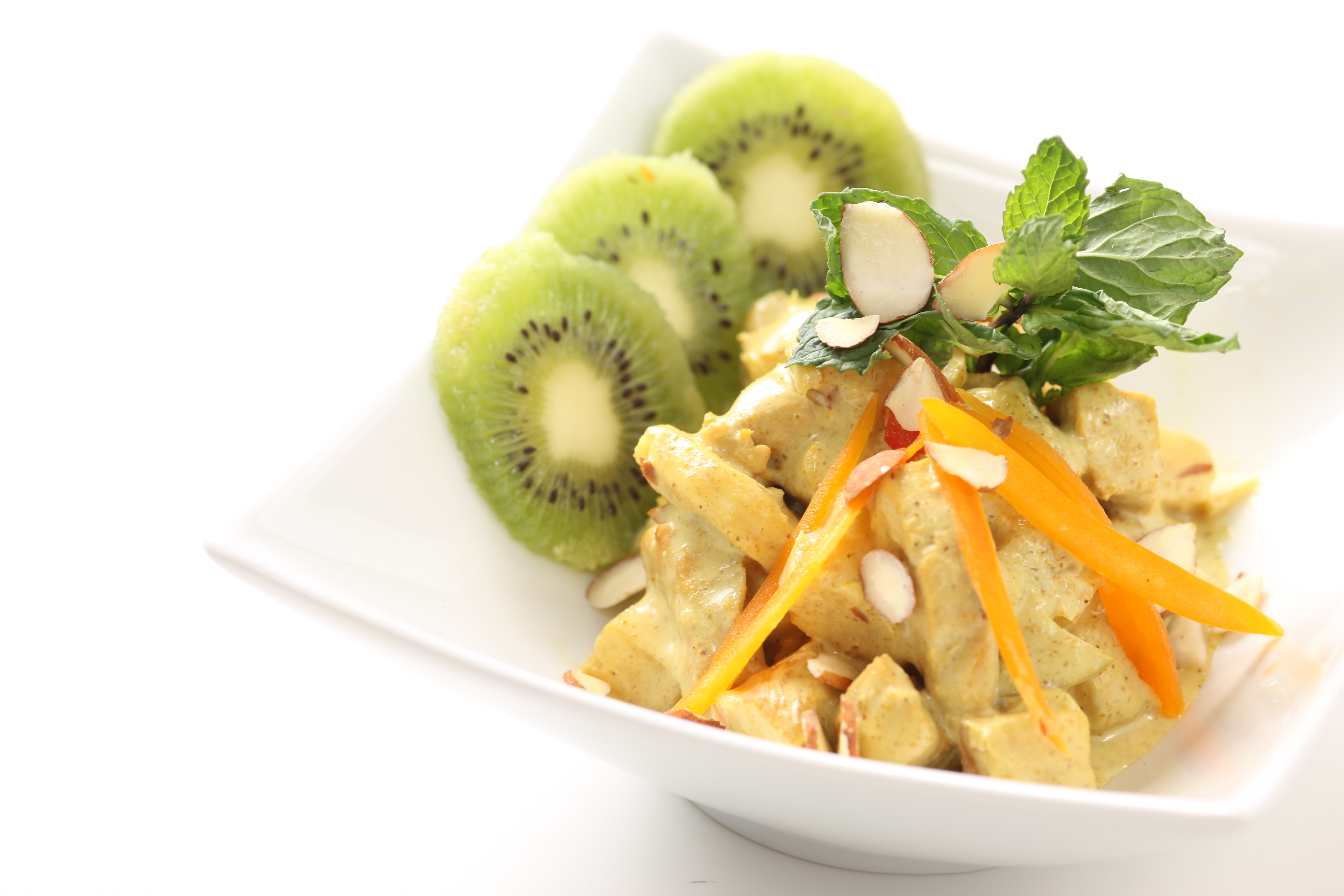 Harry's Wine Pairing Tips: With the pineapple and curry this calls for an unoaked chardonnay. With its tropical notes and hints of pineapple. An unoaked will also have a sprightly acid level to balance the cream. If you make the basic sauce quite spicy, think about a California, Washington State or Alsatian gewürztraminer with its tree fruit flavors and a little sweetness to balance the heat.
Ingredients
Serve this as an appetizer with steamed rice, over toast points or in a small puff pastry shell. For a dinner portion, double the ingredient amounts.
Note: While the sauce is simmering you can prepare your other items. Alternatively, this sauce can be made two or three days before you plan to use it. Just keep it refrigerated.
4 oz. onions, chopped
4 oz. tart apples, chopped
4 oz. banana, chopped
1 oz. peanut oil
1 oz. your favorite curry powder
2 cloves garlic
2 oz. unsweetened coconut
2 C. water or broth (chicken or vegetable)
1 T. soy sauce
2-3 T. creamy peanut butter
About 2 oz. fresh orange juice
1 t. or to taste Sambal oelek
½ C. heavy cream
3 oz. red pepper, medium dice
5 oz. fresh pineapple, medium dice
5 oz. tart apple, medium dice
1 oz. slivered almonds, toasted
1 lb. chicken, cubed the same size as the fruit
Tip: Sambal oelek is a spicy condiment, so add a little at first to get to your personal level of heat.
To make the curry sauce:
1. Saute onions, apples and banana in 1 oz. peanut sauce. Tip: The oil should just sizzle. Test by dropping one piece of onion in.
2. Sprinkle the curry powder over the sautéing ingredients and cook 1 minute. The curry and oil will form a paste called a compound roux.
3. Deglaze the pot by pouring in the water or broth and mix well.
4. Puree sauce in two batches in a blender. Return to the pot and bring to a simmer.
5. Add the soy sauce, peanut butter, orange juice and Sambal oelek to the sauce base and stir until peanut butter is melted and the sauce has a smooth consistency.
6. Pour in the cream, bring to a simmer and check seasoning. Salt and white pepper to taste.
Tip: If you want a frothier sauce, heat the curry sauce separately and blend with an immersion blender for about 30 seconds.
To finish preparation:
1. In a medium saucepot, sear the chicken on high heat in a small amount of oil.
2. Add the peppers, pineapple and apples. Reduce to medium and sauté about 2 minutes.
3. Add 1 ½ cups curry sauce and bring to a simmer, add the toasted almonds and simmer about two minutes, adjust seasoning.
---