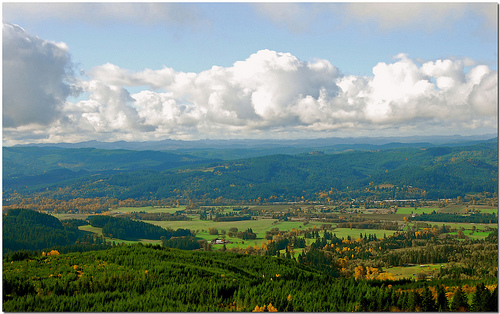 [A view of the Willamette Valley / Don Hankins]
Several news organizations are reporting that California winemaking heavyweight Kendall-Jackson is purchasing two vineyard properties in the Eola-Amity Hills area of Oregon.
If the deal goes through, it would be the first California-based investor to put down roots in Oregon, and The Oregonian says it could represent the largest acceleration in the state's $2.7 billion industry in the last 25 years—an industry nearly a half-century in the making.
Read more about Oregon's wine history on WineTable >>
The land, developed originally by Premier Pacific Vineyards, was developed with state-of-the-art equipment, according to Premier Pacific's managing trustee Richard Wollack.
"We believe that Oregon is America's Burgundy," he told The Oregonian.
The Wall Street Journal is also reporting on a land purchase in the works, with negotiations for additional properties underway.
"This would be about a 1,500-acre play, of producing vineyard properties, if it all comes down," Peter Bouman, a real-estate broker with Oregon Vineyard Property told WSJ.
Kendall-Jackson has declined to comment so far for any news outlet.
WSJ Wine Columnist Lettie Teague tastes a couple Oregon pinots and discusses the growing successes of wine in that state:
With Rumors circulating, one member of the Oregon Wine Board told local NBC affiliate reporter Craig Smullin a boon for the Willamette Valley would likely not hurt business for wineries in the southern part of the state.
WSJ wine columnist Lettie Teague says the strength of Oregon wine producers is in their collegiality.
"More than anything else, the message I heard over and over during my recent Oregon visit was that the success of one winemaker was the success of them all," she writes.
Echoing Teague's observations on Oregonian collegiality, in a recent interview about Oregon-Washington cooperative wine ventures, Ste. Michelle Wine Estates President and CEO Ted Baseler told The Oregonian he has watched the wines in both states gain critical acclaim over the past two decades. Ste. Michelle is one of the few out-of-state holders of Oregon wine property. Now, he says, the state's industry is poised for a major global initiative.
"I was in Hong Kong last spring at a big conference and there was tremendous interest in Oregon wines," he said. "We can now take that to the next level of global awareness of Oregon wines."
Find other articles about Oregon wine on WineTable >>
---