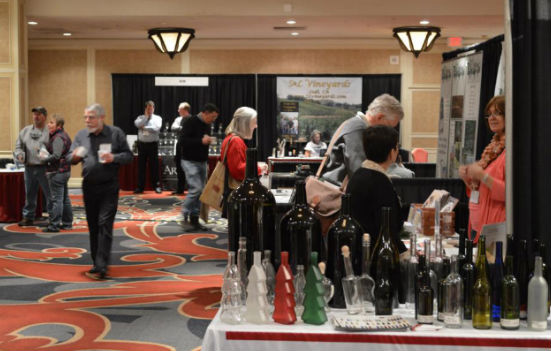 [The crowd at the Minnesota Cold Climate Conference / WineTable]
Grape growers, winemakers, suppliers and enologists gathered in St. Paul for the Minnesota Grape Growers annual Cold Climate Conference, Jan. 21-23. The subject: making wine in the Midwest. But many of the attendees and exhibitors came from much farther away than these frostbitten plains.
In the past decade, wineries have been popping up in Minnesota, Wisconsin, Iowa, the Dakotas and beyond. More than 1200 wineries are now open for business across an 11-state area. In Minnesota alone, the wine industry has recently been growing at an annual rate of 28 percent.
But in Minnesota, as well as other cold weather states, making wine from only locally grown grapes has proved challenging. While cold-hardy varietals, such as the Frontenac and Marquette, are being made into better and better wines, grape choice remains limited. Many winemakers are also looking for flavor profiles with more depth and dimension in their wines than a single fruit can offer.
One of the regions Midwest winemakers are sourcing grapes is Lodi, Calif. In 2009, Lodi's 100,000 acres of vineyards accounted for $5 billion in economic impact to the region, according to a study by the wine industry advisory firm Stonebridge Research. That's good when times are good. But six years ago, the California wine market took a nosedive and many grape growers found themselves with a whole lot of grapes and no one to sell to.
So at least several started looking back east for sales opportunities. Now many winemakers in this middle-American region are looking to the supplies of people like Steve Borra and Mike Stokes for their California supply. Borra and Stokes have developed a cross-country market for their grapes. Along the way, they say, they've developed meaningful relationships with their customers. Midwest, meet California. California, meet the Midwest.
Borra Vineyards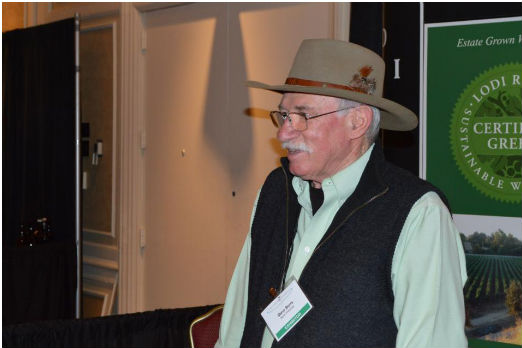 [Steve Borra / WineTable]
Steve Borra, with his white mustache and dapper Aussie style hat, spoke with passion and grace about his beloved craft, both as a grape grower and winemaker. Borra is the third generation to live on the family ranch in Lodi.
His area receives an extra dose of the cooling winds from San Francisco Bay, and the grapes have a freshness of flavor that makes the land of and around Borra Vineyards the most popular and renowned sub-appellation in Lodi, he said.
Forty-seven years ago, Borra and his wife Barbara moved into the ramshackle farmhouse on the ranch, and slowly added acreage to their property over time. Now he has a large operation, boasting more than 230 acres of old heritage vines and new varietals too.
Borra began making wine for family in 1967, and his success brought the adventure of adding a winery in 1975. They first produced Barbera and Carignane wines from their grapes. Today, his children and grandchildren have joined the business – their daughter works in the winery tasting room, their son works in the office and the grandsons drive down the dirt tracks on the ranch.
When the California market took a turn for the worse, and he found himself traveling as far east as Pennsylvania to hunt down buyers for his fruit. Lo and behold, he struck gold outside of California and now has a thriving business providing quality grapes to about 45 wineries in mid-America. He loves his relationship with those wineries and is glad he made the move to market out here, he said.
S & L Vineyards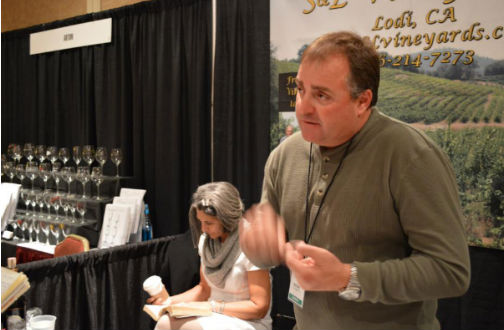 [Mike Stokes / WineTable]
Mike Stokes also hails from the "fertile crescent" of Lodi. There, "Mediterranean-like breezes" make for an early ripening season, Stokes said, an advantage to creating unique flavor profiles in the grapes. The warm, dry summers; cool, moist winters, and distinctive sandy soils make ideal growing conditions, too, he said.
He takes great pride in his grapes, the wine they produce and the work it takes to make a profitable business of it. Stokes, like Borra, found a niche selling grapes, bulk juices, and bottled wines in the Midwest.
Stokes and his brother Bill manage the family farm, founded in the 1950's by their grandfather. Today they raise up to 15 varieties of grapes each year, along with cherries and apples on 5,000 acres.
They ship the grapes across the U.S. and also offer other wine-related services like bulk wine sales, custom blending, custom crushing and bulk storage at their facilities. The brothers also operate Lodi Wine Cellars, a tasting room in downtown Lodi, to showcase and sell the wines made from their own grapes.
---