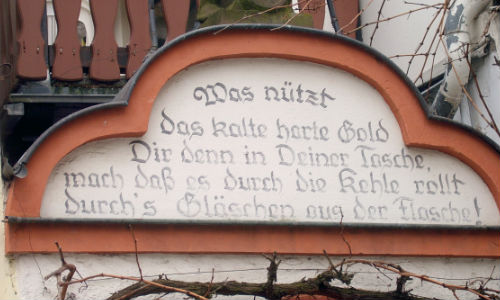 [A sign at Bernkastel reads: "What use is your cold hard gold in your bag--make it run through your throat--from the bottle into your glass." / Eva Weirich]
We recently went on a weekend trip to one of the oldest wine-growing places in Germany – Bernkastel. The name already gives it away – this is one of the many places where even the Romans grew their wine. The Latin castellum has been reduced to kastel through the centuries. What stayed was the town's significance in the local wine industry. Some of the best vineyards are to be found here. With extremely steep terrain, this is where some of the best German Riesling wines are grown. The grapes get their share of sunlight in a very steep angle which makes them very well-balanced in terms of sugar and acid. Another huge contributing factor to the wines' quality is the soil. The vineyards are covered in slate which stores the heat extremely well.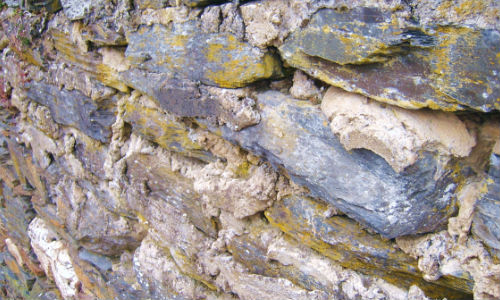 [A typical slate wall / Eva Weirich]
Not only do steepness and slate make excellent wines but they also make a very pretty picture. Bernkastel is, in fact, just the one half of the town. The full name is Bernkastel-Kues; they used to be two separate villages but were were united in 1905. The river Mosel makes a steep turn right between Kues and Bernkastel. The plateau of Kues already features some very good vineyards but hold your breath if you look up the vineyards of Bernkastel (or down if you've got enough stamina to climb them). The vineyards are so steep that tractors are useless in harvest. Vineyard workers need special tracked vehicles and cables in order to get the grapes.
If you have a garden, you certainly know that you have to fertilize the soil from time to time to make it rich in minerals and nitrogen. But how do you do that with a vineyard? On our last trip to Bernkastel, we watched how they re-did the soil. They used excavators to renew the slate so that the vineyards could produce good wines for another couple of years.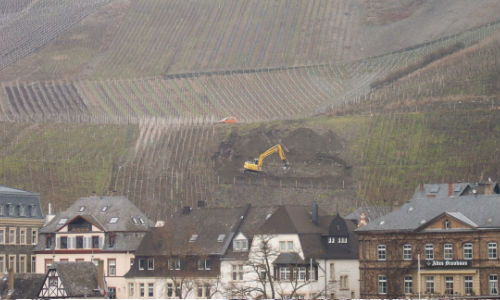 [Re-doing a vineyard / Eva Weirich]
What struck us this time (we go there at least once a year) were the phrases painted on many of the older buildings. Sometimes the graffiti is bitingly sharp against politicians and other drivel-loving people, sometimes it's rather welcoming to anyone who likes wine. In either case, it's one of the many gems in Bernkastel and reflects very well the local attitude of having a mischievous gleam in the eye. People here are cheeky, yet warm and hospitable. You can't help feeling welcome and at home. Wine is not the only thing the area has to offer. Wine is frequently used in the local cuisine; whereas good and solid meals feature a nice white wine sauce, the dessert section offers the most exciting creations. My favourites are three different chocolate pralines filled with sparkling wine made from Riesling, wine liqueur and a so-called wine-grower's truffle. They are only available in a very nice, tasteful café next to the town hall.
But what is a place that has the Latin castellum in its name without a real castle? We climbed up to castle Landshut from where you have a great view over both parts of the town with all its vineyards. Since it was snowy and cold we didn't expect to meet anyone but it appears that a couple of geese has chosen the castle as their country estate. Well, they were not exactly photogenic. It took us several attempts to get a picture of them.
[A goose perched atop Bernkastel / Eva Weirich]
So far, I've only told you about the excellent wines and their use in the kitchen. The liqueurs, jams and mustards of the area should not be missed. They are made of a special local kind of peach or have Riesling as a main ingredient. We bought a 'vineyard's peach jam' last year and we don't eat more than a tiny teaspoon of it a day. It's just so delicious on fresh brioche – and surprisingly good on a really smelly cheese.
There is so much more I could write about Bernkastel but then I wouldn't be able to stop before tomorrow. I hope I've given you an idea of its loveliness and that you'll add it to your 'to see' list when you're in Europe. I'm sure you'll love it.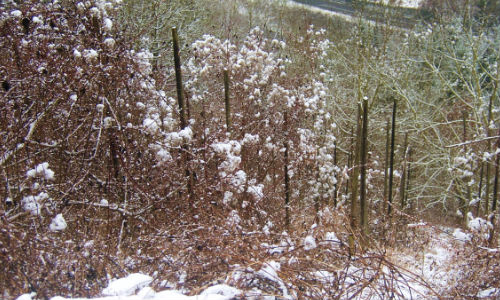 [An old vineyard no longer in use / Eva Weirich]
Try a wine of Bernkastel for yourself. Check out our list of wines from Bernkastel >>
---