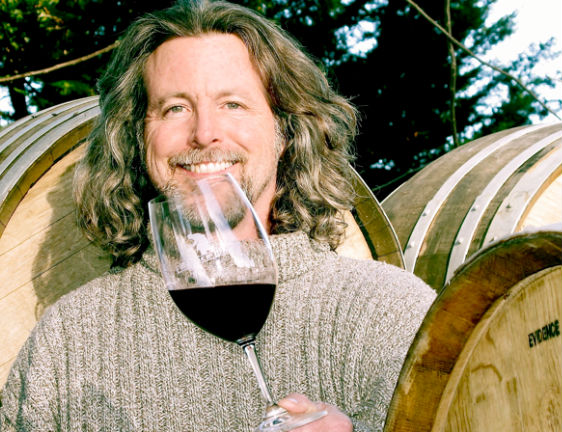 I first made contact with Jason and his business partner Chris Woodrum in August 2010 via a message Chris sent me wanting to know if I desired to try their wine. I took them up on the offer, and was very glad I did. To-date, I have truly enjoyed every Evidence wine I've tasted. Additionally, everyone I have introduced the wines to has the same reaction, which is always something akin to, "absolutely excellent," and, "holy cow what a great price for this wine!" Some of my past reviews have included the following gushings: "Oh my! Wonderfully complex nose for a Zinfandel - devoid of flabby-jam notes - just pure and delicious aromas" and, "Only 250 cases made. Get yours now." Jason's path to wine crafting is quite unique, and his answers to my questions among the most entertaining I've received. Please get to know more about Jason, and Evidence Wines, below…
24 Questions
1. What were you before you were a winemaker? An actor.
2. If you weren't a winemaker you'd most likely be a: Micro Brewery / Restaurant owner, might still be one day.
3. Happiest moment(s) during the wine crafting process (besides "finishing")? It's funny. When you are knee-deep into harvest, and you are starting and finishing your days with pump-overs, you actually develop a relationship with each individual tank, as they develop and go through the fermentation at different rates. Sounds strange, but it is true. After several weeks of that closeness, the wine goes dry, and it is time to barrel it down. Rinsing new barrels and then filling them with wine is awesome. As the wine flows into the barrel, it displaces the air inside the barrel out of the bunghole, and the smell of fresh, new French oak wafts out into the air. It is like candy! That smell is awesome, and is a Pavlovian association that you have finished with the hard physical stuff.
4. Worst moment(s)? That darned pump-over word again. My worst moment was accidentally pumping over one tank into another tank without knowing it, thus blending two tanks together, that were at a different stages of fermentation, and totally different varietals. No bueno.
5. For the rest of your wine-crafting days, if you could only make wine from one red grape variety what would it be? I would go with Zinfandel…with Sangiovese a close second. So many things you can do with this fruit. ;-)
6. For the rest of your wine-crafting days, if you could only make wine from one white grape variety what would it be? Without a whole lot of knowledge and background with whites…I'd go with Sauvignon Blanc.
7. First wine-related thing you think about when you wake up, monthly, during the year.
January = Bottling
February = Rack and backs
March = How are the vines looking as Spring is nearing?
April = Sell
May = Sell
June = How do we sell this stuff?
July = Fireworks and beer
August = Brix
September = Crush
October = Pump-overs
November = More pump-overs and barrel down
December = Can we be done now? I'm ready for Christmas vacation!
8. Of all the winemaking tasks you currently perform, what one do you wish you had a capable intern doing instead of you? Nothing! If anything, I miss NOT doing ALL the things associated with making wine. I say that now….but in the middle of harvest, I'm really glad I'm not doing pump-overs anymore!
9. What, if any, liquor do you enjoy neat? Scotch!
10. If you had to pair a wine with a mild cigar, what grape or style would you suggest? I almost will always go with a zin when it comes to cigars. The spice that's associated with zin, the higher alcohol that zins tend to come in, and the late pick, high brix zin, is always a good tobacco marriage.
11. What is your biggest gripe about the wine, and/or adult beverage, industry in general? Understanding "trends." It's one thing to "make" wine, it's another to sell it, and that seems to be one of the biggest hurdles. Until the last decade or so, Americans were the last to incorporate wine as an actual "food" product and part of the culture. Therefore, it has always been marketed and sold as a "lifestyle" product, that is/was heavily influenced by trends and critique. Look what the movie 'Sideways' did for Pinot sales, and how it influenced Merlot negatively.
12. What did you drink to ring in the new year? 2002 Lokoya Mt Veder.
13. If you somehow knew fate, and that you only had one more bottle to enjoy before you died, what wine would you pick? 1945 Chataeu Petrus…..then a 1947. I drank an 1975, and I think it's still is the one wine I remember being the best wine I ever had in my mouth. So many things come into play with wine and the enjoyment of it though….so that's a whole other show ;-).
14. If you could no longer work in the AVAs you currently do, where would be your top AVA relocation choice? Great question! As I get older, I am finding that I would want to set up where NOBODY else really is/has. Perhaps even be the Maverick that starts it all in that place. With some disease issues, and how to deal with those put aside, along with higher than normal sulphur content, I think the upper valley of Ojai to be an almost "promise land" of future wine production. Elevation, hot, dry, acidic, loamy soil.
15. How do you define "bottleshock"? So you have this liquid that is sitting quietly and mostly undisturbed in a barrel for two years. All the while, its all coming together in a beautiful balance of acid, alcohol, tannins, wood, and all the earthy, soulful characteristics of the actual fruit. Slowly binding together to reach the point where you want it to be. Then, because of sudden and dramatic movement through pumps and hoses, and filters, and tubes, and then being shoved into a bottle, it is no longer the same wine it was when you tasted it before bottling. It's shattered broken apart, muted and needs to BIND back together to be what it was prior to all that movement. Bottle Shock!
16. How long do you let your purchased wines rest after they have been delivered? Ok, this is a tough question to answer, too, because it really depends on the producer. How extracted or tannic is the wine, and how structured is it? What kind of wine have you learned to like? If you like to drink "young" wines, as I do, sometimes ya crack em' a little early! Otherwise, the choice is based on depth and structure!
17. Please list a few words to describe Mega Purple. Cheat. Cheap. Manipulative. So, think about cooking shows over the last decade, and how far they have come! In the same right, viticulture and enology have evolved rapidly too. There is always a scientific, supplemental, way to make a lower quality product / project, better, by virtue of how to scientifically manipulate it! Mega Purple is a way to that!
18. What is your favorite beer(s), and why? Open Mind! Always finding new ones. Hoppy diehards like 'Pliny The Elder'….the status Reg, Laguanitas IPA for mass consumption and cheap availability. Too many great little producers to name. ;-)
19. Your favorite cocktail(s), and why? The occasional 'Rusty Nail' (that's a whole "other" show) and, on a hot summer day, a Henricks Gin and Tonic with a squeeze AND a twist. Mint if it is around! It just polishes off a good summer day…or even maintains one…lol.
20. Choose one or more of the following to describe vacuum aerators and similar apparatus: A. Gimmicks; B. Useful, have a positive effect on the wine above and beyond what decanting can accomplish; C. Same effect as decanting, just quicker. Anything the aerates the wine is good! Just "glug glug glugging" it into a decanter will aerate it to where you want. Not gimmick, but tchotchke!
21. Choose one or more of the following to describe metal dipping devices and similar apparatus advertised to almost instantly "age" wine. A. Gimmicks; B. Useful, have a positive effect on the wine above and beyond what decanting can accomplish; C. Same effect as decanting, just quicker. Metals interact with one another on different charge levels. It affects it, but……it's why we only use non-reactive metals in wine production. I say gimmick or unimportant! Slow down and take the time! Why speed up time? ;-)
22. Have any wine/food pairing(s) that seem odd, but really work? Deep fried olives, stuffed with garlic puree. ANYTHING deep fried actually…goes well with ….well…anything!. ;-0
23. What work do you suppose you will do after your final wine is made? Open a Micro-Brew/Music Venue with great food! Host a party every day!
24. If you could give any beginning wine drinkers one sentence of advice, what would it be? Remember to identify what you LIKE, and what you DON'T LIKE, and just remember the difference. Never be influenced by other peoples' opinion. Trust yourself to learn what you like and don't like.
About Jason
"Since the age of twelve, Jason has been involved in all aspects of film and its many related industries (Print/Editorial Advertising, Commercial and Feature Film and Television Production).
In early 2001, the film industry experienced extreme changes that made it a very difficult business to be a part of, and in the process, a more difficult one to pursue. Because of this change, and a growing detachment from the only business he was ever involved in, he began to look outside of his real frame of knowledge to find other fields to be involved in and learn from, those that added challenge, insight and passion. In his life-long pursuit of growth and personal experience, Jason went north from Los Angeles to Napa, to be involved in the production of a documentary on wine making, and its influence in the American culture. During that 5 week exposure, he became enthralled with northern California, and the specific geography of Napa and the winemaking process.
Discovering a new interest, at the age of 40, he accepted an offer to work the harvest at the Cardinale winery in Oakville in 2002. After that proving experience, he was offered a full-time position with the Artisan Estates brands (Cardinale, Lokoya, La Jota & Atalon), working in production, and started his continuous education by pushing pumps, hauling hoses, and asking a lot of questions. Working his way up the ladder through the cellar, under the tutelage of two different winemakers, and performing all hands on aspects of their winemaking protocol for the brands of artisan estates, he developed a hands-on, learn through osmosis approach to his new passion, all the while dreaming of one day, starting his own brand.
By 2008, while completing his final year of employment with Artisan Estates, he ventured outward with an old friend (Chris Woodrum), to create and establish the 'Evidence' label and brand with their 2007 Knights Valley Cab, which won a silver medal at the 2009 San Francisco International Wine Competition, for quality to price ratio entry ($35 and under category).
Proving it is never too late to reinvent oneself, Jason bellies the belief that as long as you are involved in something you are passionate about you can never avoid happiness. His favorite creed is "Be a human BEING, not a human DOING."
Along with his partner in business/crime the two hope to create and establish a long healthy line of ultra-premium wines at affordable prices, under the 'Evidence' brand, while also throwing an unorthodox approach to the making and understanding of wine."

Visit Evidence Wines online, follow Jason's crew on Facebook and tweet them on Twitter.
CTRL + Q to Enable/Disable GoPhoto.it
---