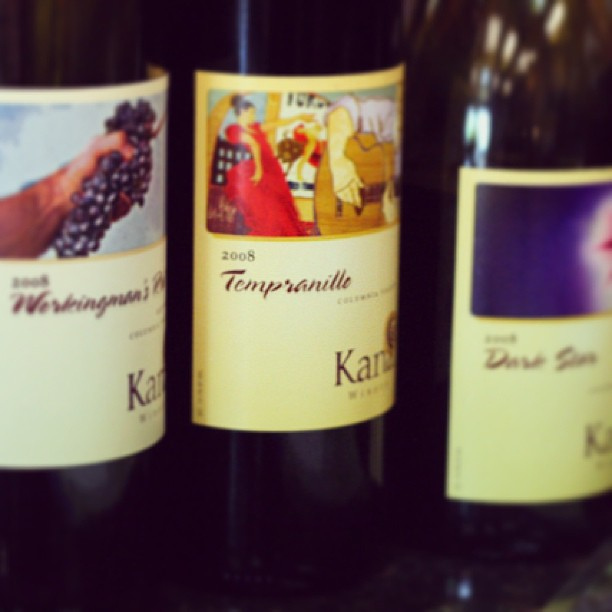 [Kana Wines Tempranillo / Doniree Walker]
Define the Wine
Tempranillo is native Spanish, black grape grown for full-bodied red wines (yes, please!). It is the main grape used in Rioja, and because of its low acidity and alcohol content, it is often used in blending with other reds, like Grenache, as well. The Portuguese blend it with other wines to create (beautiful) port wines. Now we're talking.
Not wanting to be outdone or bested by its Spanish brothers and sisters, Tempranillo is named such from the Spanish word "temprano," or "early," as it ripens several weeks earlier than most other Spanish red grapes.
It's a stunning ruby in color, and tends to smell and taste something like berries, plum, vanilla, and tobacco.
Is it getting hot in here?
Grapeography
Tempranillo hails from Spain (more specifically, the Iberian Peninsula), but it is grown and can be found all over the world. You'll find other plantings of Tempranillo in Mexico, New Zealand, South America, the United States, South Africa, Australia, Argentina, Uruguay, Turkey and Canada.
When Tempranillo first came to California at the turn of the 20th century, the climate wasn't quite optimal for bringing out the best in this grape. For that reason, Tempranillo was first used there as a wine for jug wines. You know, Carlo Rossi and Boone's Farm. The cheap stuff.
Thank goodness times have changed, because this grape really does deserve its own stage as opposed to getting lost in the mass production of a Gallo or a Franzia.
Plays Well With Others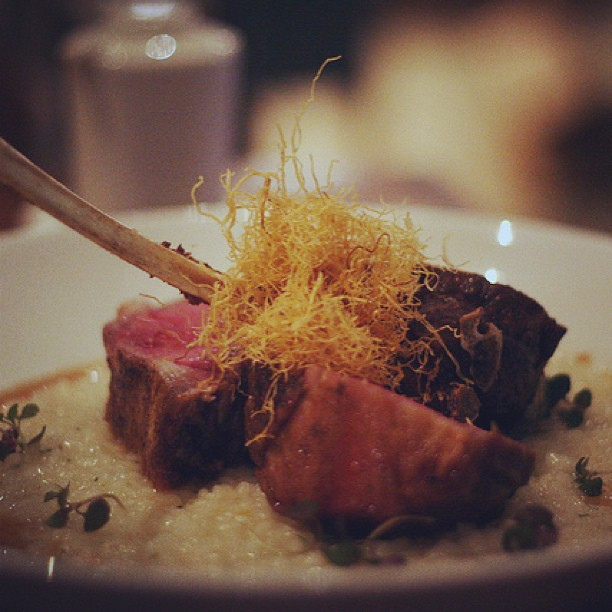 [Lamb, the perfect pair for tempranillo / Doniree Walker]
Because of its earthy notes (herbs, leather, tobacco), Tempranillo pairs well with game meats, savory dishes, beans, South American cuisine, anything braised or stewed, and of course with many Spanish dishes.
My suggestion? Host a Spanish-style tapas party with a selection of a few savory small plates, and serve a single varietal Tempranillo, a Tempranillo blend, and a Tempranillo port. Make comparisons in the differences and similarities between the three, as well as how each pairs with the tapas prepared.
Take This With You (A Fun Fact)
In 2011, TAPAS (Tempranillo Advocates Producers Amigos Society -- yes Tempranillo has its own advocacy group!) organized the first annual International Tempranillo Day. Not only are you encouraged to celebrate (and drink!) this wine on its very own holiday, but wine-drinkers were also encouraged to share their experiences online using the hashtag #TempranilloDay or #Tempranillo. In 2012, the date was November 8. Stay tuned for the announcement of 2013's Tempranillo Date and get those wine glasses ready!
Ready to try it for yourself? Search for a tempranillo to suit your taste and budget >>
---