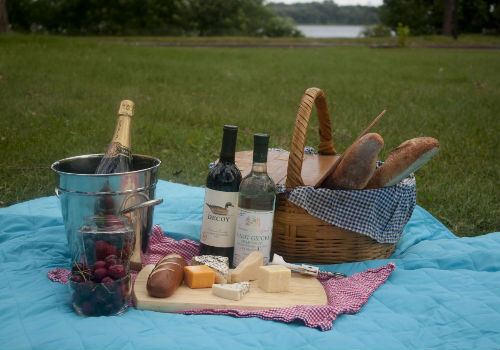 When I think bread, cheese and wine, I start with ancients on dusty roads traveling between cities of old empires. Then I quickly speed into the future of today and long for a grassy spot in a nearby park, preferably by a lake, preferably close to a sand volleyball court (not too close for the sand to get into the bread though!). This week, I acted on that longing, and packed up my own little spread for a lunchtime reverie. A basket full of charcuterie is perfect for a romantic picnic or an afternoon getaway with the girlfriends. With a little planning, it can even be an urban escape in the middle of a city during a busy workday. Any way you slice, it's a perfect excuse to take a spin through your local cheese and wine shops to test their wares.
Bring along some plastic stemless wine glasses and a screened tent to cover your plates of food between bites. Picnic food needs to be accessible but safe from the bugs. Oh, and a hammock is a great accessory, too.

Bread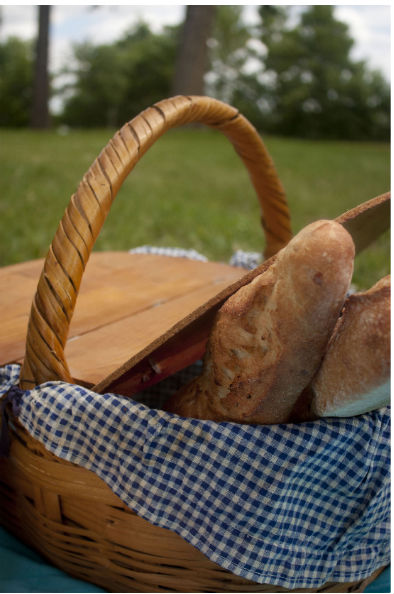 I must confess, I love bread altogether too much than is good for my waistline. I don't really care too much, though, and make it generally once a week. Here's my biggest culinary secret: I've learned the tricks of the no-knead Artisan Bread in Five Minutes a Day, so what seems like an arduous, time-intensive task is actually probably one of my easiest. (You don't even have to consider yourself an aficionado in the kitchen to make this bread.) Here's the basic recipe. I highly recommend checking out the website for more detailed instructions:
3 C. warm water (it should feel just slightly warmer than your body temperature)
1 ½ T. salt
1 ½ T. yeast
6 ½ C. all-purpose flour
Pour the water into a large bowl and sprinkle in the yeast and salt.
Stir in the flour all at once. Stir until mixed and a dough forms. This is a fairly moist dough, allowing the gluten to form and the dough to rise without kneading.
Cover the bowl with plastic and let rise 2 hours.
Preheat the oven to 450° for 20 minutes.
Meanwhile, sprinkle flour over the top of the dough and pull out a grapefruit sized portion of dough (cover the remaining dough and keep in the fridge for daily loaf baking for up to 10 days). Sprinkle with enough flour to allow you to work with the dough so it's not super sticky and form into a round or oval.
Cover a cookie sheet with parchment and a sprinkle of cornmeal and place the dough on top. Slash the top of the dough with a sharp knife 2-3 times.
When you put the dough in the oven, toss a glass of water against the sidewalls and quickly shut the door. Do this again 5 or 10 minutes into the baking time. The burst of steam will turn your otherwise regular bread into a magically crusty-on-the-outside-chewy-on-the-inside rustic loaf.
Bake 40-50 minutes or until the loaf is dark golden brown.
Cheese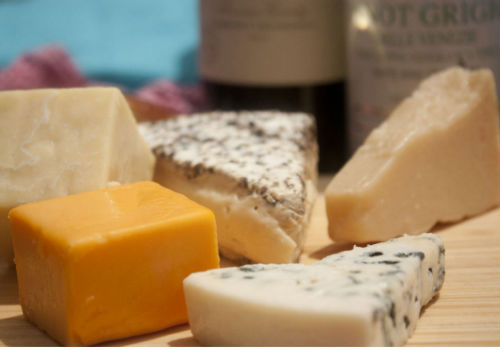 I'm a cheese maniac. I love a bite of cheese any time of day, and freely confess to frequently slicing a bite or two while I prepare dinner….or lunch….or while I'm cleaning…or lounging around the house. I try never to get to this point:
For a picnic, collect an array of soft, medium and hard cheeses. The deli I frequent has started selling mini taster blocks of cheese, so I can pick up quite a handful of different varieties without spending a lot.
Some of the cheeses I like:
Brie—For my last picnic, I found a Brie with black pepper, which was delightful.
Sartori brand cheeses—The Wisconsin-based Italian-style cheese is some of the most shockingly creamy cheese I've ever sampled. I like all the flavors, including black pepper, merlot and balsamic.
Blue—I must admit I go easy on the blue, but it's nice to broaden into that sharp, tangy, mouldy sphere a smidge, and blue can be quite good with a fig jam.
Aged cheddar—The sharper, the better.
Parmesan—I grate it on anything I can, but like a slice of it here and there.
Wine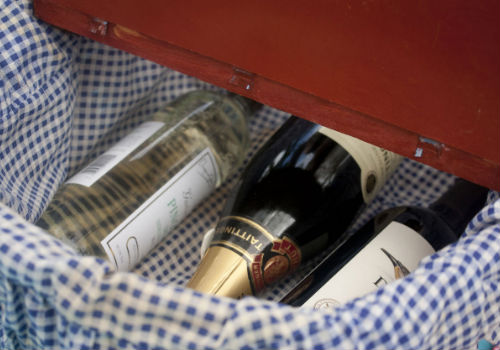 Sangria is always a good choice. Check out some great fruit combinations here. >>
Pairing a red blend is also great for a lunch with many different strong flavors. Try:
Merlot is always a crowd pleaser and pairs with many different meats and cheeses well. Try:
The Extras
A picnic like this is one of those perfect occasions to break out some of those designers spreads that you see in gift stores and high-end kitchen stores. A dab of jam or mustard is an excellent condiment on a slice of cheese, and expands the range of flavors to juxtapose against your wine. I can't even say how many of them I've bought thinking how delicious they look and then never ending up finding a use for them. Hence, this picnic. Some suggestions:
- Marmalades or jams with interesting herbal infusions
- Pesto
- Artichoke spread
Round out the menu with a few summer sausages, some olives and pickles, grapes and pretty little knives and you're ready to go. Have some suggestions on what I should pack for my next picnic? Share them with me!
---