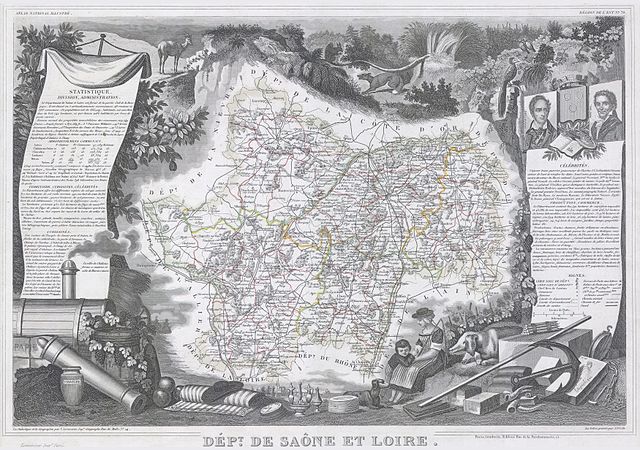 [Levasseur map of Beaujolais Department / Victor Levasseur]
Beaujolais is a well-known department or district inside of the regional appellation of Burgundy. Burgundy, as a region, is known most frequently as a source for single varietal wines using Pinot Noir and Chardonnay grapes, which benefit from the cooler climate in the north-central part of France. The internal district of Beaujolais, which is located north of Loire and situated between the Burgundy and Rhone regions, is, on the contrary, known primarily for a single red grape, Gamay.
The Gamay grape, whose full name is Gamay Noir à Jus Blanc, is believed to have originated near the village of Gamay in east central France as far back as the mid 14th century. An easy cultivator that ripens at least two weeks before Pinot Noir and produces an abundant crop with ease, it helped the region recover from the ravages of the Black Death. The Gamay grape is a vigorous cross of the Pinot Noir and Gouais grapes that ripens early and easily and produces well.
It can stand up to some intense winemaking tricks to rush production, such as carbonic maceration. In this technique grapes are deprived of oxygen and placed in a carbon dioxide rich atmosphere that starts fermentation of the juice while it is still in the grape. This allows for a quicker fermentation process and helps to create ready-for-market wines much earlier in the season, such as the famous and well-marketed Beaujolais Nouveau.
Beaujolais Nouveau has become for many in the United States a traditional Thanksgiving wine due to its release on the third Thursday of November. Originally it was created to generate sales in other regions inside France with bike and auto races to see which wine could be first to market. Beaujolais Nouveau is a purplish pink wine that is bottled and sold to drink only six to eight weeks after harvest. Such quick production, enhanced by the carbonic maceration process, produces a wine with very little tannin and strong fruit flavors such as banana, fig and pear.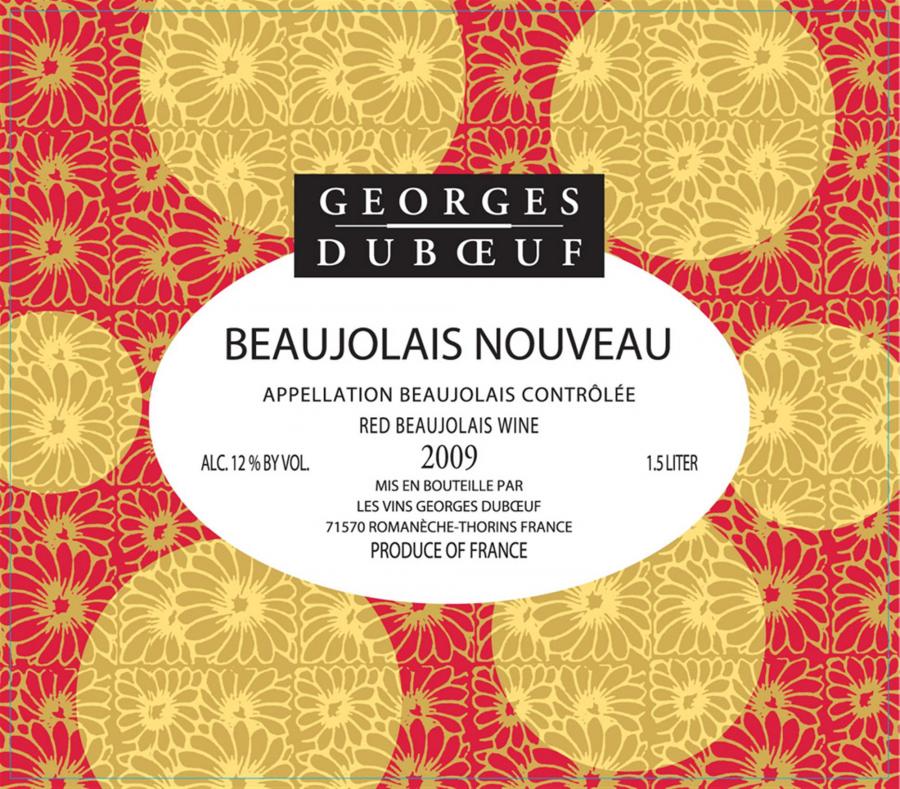 Beaujolais Nouveau is only type and often considered the least of they Beaujolais wines, which are sorted into a hierarchy much the same as many other French regions and wines.
To walk you through the steps:
The most basic version of Beaujolais is labeled simply by the region.
Implying greater quality and a more restricted area is the designation of Beaujolais-Villages
Many consider the best and most flavorful examples of Beaujolais wine to come from ten specific villages that are allowed to use their name on the label to confirm that all grapes came from within the limits of said villages.
Those villages are Brouilly, Cote-du-Brouilly, Chenas, Chiroubles, Fleurie, Julienas, Morgon, Moulin-a-Vent, Regnie, and Ste. Amour. The terroir of each of these villages is known to add specific notes to their exceptional wines.
Learn more about how appellations work >>
Beaujolais is frequently consider as a red wine for people who don't think they enjoy red wines; it is most often light, refreshing and smooth with lots of fresh berry flavors. Beaujolais wines can range from the very inexpensive such as Beaujolais or Beaujolais Nouveau to the complex and crisp Beaujolais Cru wines of villages such as Cote-du-Brouilly and Moulin-a-Vent with delicate aromas of violets and roses.
Most wines from this region are meant to be drunk fairly young, within several months for Beaujolais Nouveau, one to three years for Beaujolais-Villages, and up to six or more years for some wines from the Cru Villages, such as Moulin-a-Vent, Morgon, Julienas and Chenas.
A few white wines (less than 1% of production) are grown in the region, predominantly Chardonnay or Aligote, but these are difficult to find outside of France.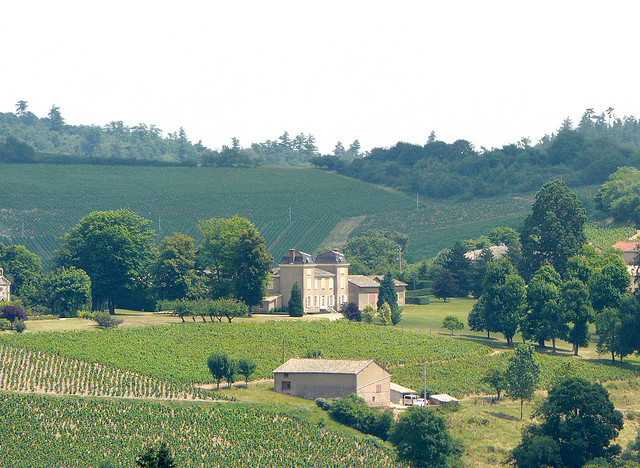 [Petit Beaujolais Chateau / steyb]
For those who might be skeptical of finding good value and flavors in a Beaujolais wine, it would be well to consider that Beaujolais, as a region, produces more wine than all of the other Burgundy regions combined and has been a center of wine production since the Romans planted their first vineyards there on their advance into then Gaul. Beaujolais wines are definitely worth exploring, for not too much money you can collect a bottle from each level in the hierarchy and compare them. This can be a great way to gain some insight on why the French system focuses so much on place in labeling and rating wines.
---