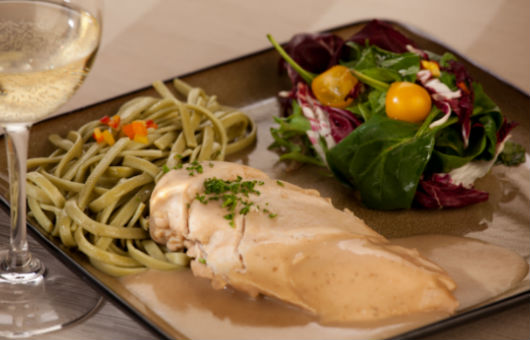 There's no reason elegance needs to mean time-consuming. With a smidge of do-ahead preparation, this elegant north Italian dish will be ready to eat in an hour or less.
Harry's Pairing Note: This is more of a north Italian dish so a fresh white from the area is my choice. Be daring. Serve an Arneis from Piedmont or a Tocai from Friuli.
Ingredients:
12 oz. chicken breast
2 oz. unsalted butter
2 oz. bread flour
1 pint cold chicken broth
6 pepper corns, 2 sprigs of thyme, 1 clove garlic, 1 small bay leaf
6 oz. dry spinach pasta
½ C. medium dry sherry
½ C. Romano cheese, grated
½ C. fresh breadcrumbs, grated
To Make the Chicken:
1. Poach the chicken breast in chicken broth, at 170°. Cool both in the fridge overnight. Remove the chicken—you'll use the broth for the sauce.
2. Melt the butter in a thick bottom saucepan.
3. When foaming subsides, sprinkle on the flour and stir with a whisk. Cook for about 3-4 minutes. It will start to smell nutty.
4. Stir in about ½ C. of the chicken broth and make a smooth paste. Continue adding and stirring smooth until all broth is added. Tip: To avoid lumps, always add cold to hot or hot to cold.
5. Tie the herbs in a piece of cheesecloth and suspend in velouté. Simmer slowly for 45 minutes. Strain the sauce, return to heat and check for seasoning.
6. While simmering the sauce, cook 6 oz. dry spinach pasta according to package directions. Have ready the chicken, sherry, cheese, and breadcrumbs.
7. Add the sherry and chicken to the velouté. Cook only until the chicken is heated through.
8. Place the chicken in an oven-proof dish, pour the sauce over it (reserving out a few spoonfuls) and sprinkle with breadcrumbs and cheese mixed together. Bake just a few minutes at 350° until brown, crusty and bubbly.
9. To serve, place pasta on the plate, arrange the chicken with some sauce and serve with a wilted salad of spinach and radicchio.
---