Whitney Khan
---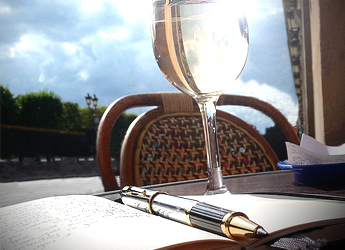 Let's be honest. Everyone who drinks wine has an opinion about it. It's with that understanding that we've added a feature to your WineTable Dashboad called My WT Blog. It allows you to write your own blog posts about wine, food, lifestyle, a great restaurant or even your favorite recipe of Grandma's cookies.
You'll find the link for your blog on the left side of your Dashboard. Once you're there, just click the green "Add Blog Post" button and start writing! At WineTable, we're all about promoting the incredible knowledge of our members to the broader community. When we see an interesting post, we'll promote it to all our members. It's one of the most natural ways for you to start gaining a following and become known for your specific area(s) of expertise or interest. Do you have a spcialty in Spanish reds? Alsatian whites? Are you a dynamo when it comes to pairing food and wine, or do you travel a lot and find hidden gems of reestaurants people need to know about? Write about them here. Even if you don't consider yourself an expert, we encourage you to share your food and wine experiences...whatever they are.
This is the perfect space for longer reviews, pairing suggestions or even just a place to share about a great (or a horrid) restaurant experience. Have a favorite food or wine blog you like to read every day? Share what you've learned from it and link to it here!
Share your comments with me in the space below, then try it out for yourself. We look forward to reading your posts!
---